"Sharper Than Any Two Edged Sword" Heb. 4:12
"Sharper Than Any Two Edged Sword" Heb. 4:12
K03 Complete Kit
The best has become BETTER! TSProf's philosophy of continuous improvement has resulted in the K03 series. More torsional rigidity is ensured by the rectangular cross section with double dovetails. All the accessories you need, new super rigid rack and pinion system. Shipping is FREE in the continental US.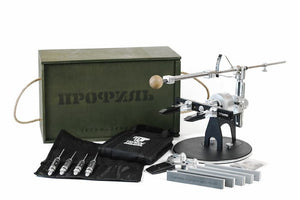 K03 Standard Kit
For lovers of camping, hunting, fishing or the outdoors. The Standard Kit covers the basic accessories you need to sharpen knives from pocket knives and fixed blades . As your skills improve and you expand your hobby to include specialized blades and scissors, you can add all the accessories up to and including the carrying case. Incrementally buy what you need or want!
Blitz Kits
For people seeking a smaller, more portable sharpener, the Blitz models are perfect for sharpening pocket knives and fixed blades up to 6 inches in length. Comes with diamond plates for abrasives, making sharpening quick and easy!